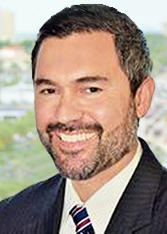 David Villalobos
Senior Associate
David Villalobos, a Senior Associate at Chepenik Trushin LLP, focuses his practice on probate and trust litigation, insurance defense litigation, and commercial litigation.
Mr. Villalobos was born and raised in Westfield, New Jersey. When he was in elementary school, his father was going to law school. He used to wake up at 5 a.m. and study with his dad, and at that time he developed an early interest in the law. Mr. Villalobos graduated from Rutgers University in New Brunswick, New Jersey with a B.A. in English and concentration in Film Studies in 1999. After college, Mr. Villalobos was a New York-based professional actor for thirteen years. Upon retiring from acting, he moved to Cali, Colombia, where he taught English as a foreign language and got more in touch with his Colombian roots. In 2016, he graduated from the University of Central Florida in Orlando with a Master's degree in Spanish and concentration in Linguistics. In 2019, Mr. Villalobos graduated seventh in his class at Florida International University College of Law.
During law school, Mr. Villalobos earned the CALI Excellence for the Future Award for earning the highest grade in six courses, including Professional Responsibility, Legal Skills and Values I and III, Criminal Procedure, Product Liability, and Sales. Additionally, Mr. Villalobos participated on the trial team, through which he had the opportunity to compete in the Texas Young Lawyers National Trial Competition. While in his last semester, he had the opportunity to work as a law clerk at Chepenik Trushin LLP.
Outside of the practice of law, Mr. Villalobos enjoys playing soccer, watching most sports, and seeing great theatre, television, and movies. He is fluent in Spanish.
Education
J.D., Florida International University College of Law, 2019
Magna Cum Laude
Jurisdictions Admitted to Practice State of Florida, Sept 16, 2019