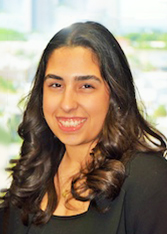 Diana Musa
Paralegal
Download VCard
Phone: (305) 981-8889
Fax: (305) 405-7979

12550 Biscayne Blvd.
Suite 805
North Miami, Florida 33181
Diana is an experienced paralegal with over eight years' combined experience in the areas of probate, estate planning, and family law. Now a part of the Trusts and Estates Department at Chepenik Trushin LLP, Diana enjoys helping families achieve peace of mind by providing personalized support in navigating the complexities of probate and estate planning.
Diana was born and raised in Miami, Florida, and is pursuing a bachelor's degree in Business Management from Florida International University.
Diana resides in Miami, Florida and has a young son. She enjoys spending time and traveling with her son, cooking and baking, collecting plants, and visiting the beaches of South Florida.
Diana is excited to be working in the Trusts and Estates department at Chepenik Trushin LLP.