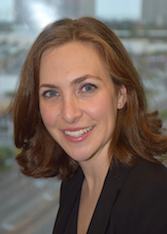 Jessica S. Pomeraniec
Senior Associate
Jessica Shore Pomeraniec, an associate at Chepenik Trushin LLP, focuses her practice in the areas of estate planning, probate and trust administration, and business transactions.
Prior to joining Chepenik Trushin LLP, Jessica was Liaison to the Dean at the University of Miami School of Law. In this role, Jessica served as chief of staff to Dean Patricia D. White and consulted across various departments, drafted gift/grant proposals, and established law-school wide protocols to improve efficiency and service. Jessica also designed an innovative, interdisciplinary graduate course, The Idea of the Hospital: An Interdisciplinary Inquiry. The course, which ran for three years, spanned six graduate schools across the University of Miami and was the first of its kind in the country. Topics included law & ethics in the hospital, hospital financing and improving stakeholder experience.
Prior to joining the administration at the University of Miami School of Law, Jessica worked as a civil litigator with a focus on maritime and medical defense cases in both federal and state court.
Jessica holds her A.B. in Modern European History from Brown University, from which she graduated in three years. She received her J.D., magna cum laude, from the University of Miami School of Law. While in law school, Jessica served as an associate editor of the Inter-American Law Review. She was also a federally-certified legal intern at Florida Legal Services, where she represented clients who had been denied Medicaid benefits. During the summer following her second year in law school, Jessica was a law clerk at the firm of Podhurst Orseck, P.A., where she researched and drafted numerous legal pleadings and memoranda in civil matters.
Jessica is admitted to practice law in the state of Florida and the U.S. District Court for the Southern District of Florida. She is a dual citizen of the United States and Canada, is a Miami Beach native and is proficient in Spanish.
Education
J.D., University of Miami School of Law, May, 2009
magna cum laude
A.B., Brown University, May, 2006
Modern European History
Jurisdictions Admitted to Practice State of Florida, September 2009
United States District Court for the Southern District of Florida, December 2009

Professional & Bar Association Memberships
The Florida Bar
Honors
Inter-American Law Review, Associate Editor
Litigation Skills Honors
Dean's Certificate of Achievement in Latin American Law
Dean's Certificate of Achievement in Comparative Criminal Law
CALI Excellence for the Future Award in Latin American Law
Dean's List
Health Law Practicum Honors
Professional Presentations
Wills vs. Trusts: Key Elements, Weighing Pros and Cons, Ms. Jessica Pomeraniec, Esq. An educational seminar on wills, trusts and estate planning for the National Business Institute. - Fort Lauderdale, FL. June 17, 2019
How to file an estate in Probate court. The estate timetable, how to prove a Will and how to challenge a Will. The steps to success. National Business Institute, Institute for Paralegal Education (Continuing Education Units for 17 Paralegals). - Miami, FL. October 2018
How to prepare and file the inventory for an estate. Florida probate statutes, how to give notice to creditors, how to collect, maintain and manage assets and addressing common inventory problems. National Business Institute, Institute for Paralegal Education (Continuing Education Units for 20 Paralegals). - Miami, FL. October 2018