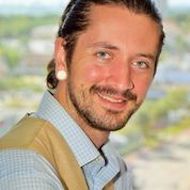 Nicholas Lagna
Paralegal
Nicholas comes to the firm with broad experience in various positions throughout the court system. He began as a Civil Judiciary Clerk before transitioning to the family law specialty as a Courtroom Clerk. He is now focused in the firm's probate practice area and enjoys working directly with clients.
Nicholas was born and raised in Baltimore, Maryland. He graduated from Towson University with a bachelor's degree in Sociology and Anthropology, with a concentration in Criminal Justice.
Nicholas resides in Lauderhill, Florida and enjoys spending time with his many pets, as well as exploring the outdoors.
Nicholas is excited to be working in the probate department at Chepenik Trushin LLP and welcomes the challenges and opportunities related to this practice area.