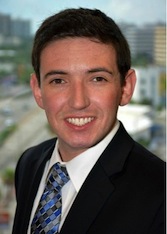 Adam M. Nicoll
Senior Associate
Adam M. Nicoll, an associate at Chepenik Trushin LLP, concentrates his practice on insurance defense litigation and coverage disputes, probate and trust litigation, and complex business and commercial litigation.
Mr. Nicoll is a native of South Florida. He grew up in Sunrise, Florida and attended the environmental science and Everglades restoration magnet program at South Plantation High School, where he graduated as co-salutatorian of his class. Mr. Nicoll earned his B.S.B.A with a major in economics from the University of Florida Warrington College of Business Administration in 2011, where he made the President's Honor Roll and Dean's List and graduated cum laude a year early. During his undergraduate study, Mr. Nicoll was actively involved in the University's Honors Program, which afforded him the opportunity to participate in a more diverse array of courses. Mr Nicoll remained in Gainesville for law school and graduated cum laude from the University of Florida Levin College of Law in 2014.
While in law school, Mr. Nicoll concentrated his study on business law and intellectual property law, including courses on trademarks, copyrights, patents, trade secrets, labor law, antitrust law and corporations. Mr. Nicoll ultimately received a certificate in intellectual property law upon graduating from law school, and, following his 1L year, Mr. Nicoll spent a summer abroad studying business law in Paris and Montpellier, France, including courses in business torts and franchise regulation. In his 3L year, Mr. Nicoll earned the book award, given to the student with the highest grade in a course, in Florida Constitutional Law.
During his second and third years of law school, Mr. Nicoll was actively involved as a Student Ambassador to help organize and lead the orientation program for incoming 1Ls and to serve as a mentor to the new students for the remainder of their first year. Mr. Nicoll also served as a research assistant while in law school, researching and analyzing antitrust case law for inclusion in updates to Kintner's Federal Antitrust Law treatise. In his final semester, Mr. Nicoll interned at the Gainesville City Attorney's Office, where he had the opportunity to further develop his research and writing skills while working on matters ranging from First Amendment concerns to community redevelopment and non-profit corporate governance issues. While working for the Gainesville City Attorney, Mr. Nicoll refined his contract drafting skills, including preparing a contract that allocated funds for a computer lab for underprivileged children.
Mr. Nicoll began working at Chepenik Trushin LLP as a law clerk and transitioned to an associate upon admission to the Florida Bar in September 2014.
Education
J.D., University of Florida Levin College of Law, 2014
cum laude
B.S.B.A., University of Florida, 2011
cum laude
Jurisdictions Admitted to Practice Florida, 2014

Professional & Bar Association Memberships
Dade County Bar Association
HONORS
Dean's List
Certificate in Intellectual Property
Book Award: Florida Constitutional Law