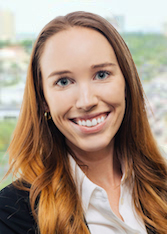 Braelyn Saumure
Associate
Born and raised outside Ottawa, Canada, Ms. Saumure graduated from the University of South Florida in 2019, with a B.A. in both International Studies and History. She subsequently graduated cum laude from the University of Miami School of Law in 2022.
While in law school, Ms. Saumure worked for the Human Rights Clinic, where she was awarded the Dean's Certificate of Achievement for excelling in the Clinic. She focused her work on highlighting the intersections of gender and environmental violence. She participated in drafting a comprehensive human rights framework and authored a case study addressing the implications of these subjects, which was shared with the United Nations Committee on the Elimination of Discrimination of Violence Against Women, as well as several United Nations Special Rapporteurs. Ms. Saumure additionally served as a clinic fellow for the Human Rights Clinic and worked as a research assistant.
Ms. Saumure was also a member of the International and Comparative Law Review and the recipient of the Dean's Merit Scholarship. Following her first year of law school, Ms. Saumure interned at Legal Aid, where she worked in the Senior Citizens Law Project.
Ms. Saumure began working at Chepenik Trushin LLP as a law clerk in the summer of 2021 and transitioned to an Associate attorney upon admission to the Florida Bar in September 2022.
Education
J.D., University of Miami School of Law, 2022
Cum laude
B.A., University of South Florida, 2019
Dual degree in International Studies and History
Jurisdictions Admitted to Practice Florida, 2022