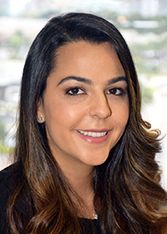 Dailyn Falcon
Senior Paralegal
Dailyn is an experienced paralegal with over fifteen years of experience in multiple practice areas, including nine years of experience within the area of trusts and estates with Chepenik Trushin LLP. She enjoys working hand-in-hand with clients, educating them at each step of the process to ensure they are informed and have an understanding of the complex legal procedures that govern the settlement of estates and trusts in Florida.
Dailyn was born in Havana, Cuba and raised in Miami, FL. In her spare time, she enjoys many diverse activities including music and art festivals, theater, travel, gardening and antique car shows.
Dailyn enjoys working in the trusts and estates department of Chepenik Trushin LLP and values the challenges and opportunities to work with great clients.